This page is mainly for US operations, see below for links to international operations pages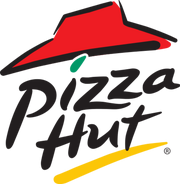 Pizza Hut is an American restaurant chain and international franchise that offers different styles of pizza along with side dishes including salad, pasta, buffalo wings, breadsticks, garlic bread and desserts.
Corporately known as Pizza Hut, Inc., it is a subsidiary of Yum! Brands, Inc., the world's largest restaurant company.
As of 2012, there were more than 6,000 Pizza Hut restaurants in the United States, and more than 5,139 store locations in 94 other countries and territories around the world.
Early history
Edit
Pizza Hut was founded in 1958 by brothers Dan and Frank Carney in their hometown of Wichita, Kansas. When a friend suggested opening a pizza parlor—then a rarity—they agreed that the idea could prove successful, and they borrowed $600 from their mother to start a business with partner John Bender. Renting a small building at 503 South Bluff in downtown Wichita and purchasing secondhand equipment to make pizzas, the Carneys and Bender opened the first Pizza Hut restaurant; on opening night, they gave pizza away to encourage community interest. A year later, in 1959, Pizza Hut was incorporated in Kansas, and Richard M. Hassur opened the first franchise unit in Topeka.
International operations
Edit