This page is mainly for US operations, see below for links to international operations pages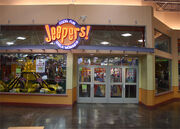 Jeepers! is a chain of family entertainment centers that is based out of Troy, Michigan. Unlike most of its competitors like Chuck E. Cheese's and Showbiz Pizza, Jeepers FECs have amusement park kiddie rides as oppose to stationary coin-op kiddie rides (although some location have coin-op rides as well) including a "Python Pit" kiddie coaster. Most Jeepers FECs are located in shopping malls. The first Jeepers! location opened in 1997.
International operations
Edit
Ad blocker interference detected!
Wikia is a free-to-use site that makes money from advertising. We have a modified experience for viewers using ad blockers

Wikia is not accessible if you've made further modifications. Remove the custom ad blocker rule(s) and the page will load as expected.