This page is mainly for US operations, see below for links to international operations pages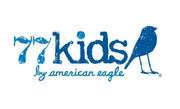 77 Kids (Also known as American Eagle's 77 Kids) is a clothing store chain that sells apparel, underwear, sleepwear, swimwear, and accessories, aimed at children ages 0-14 years. The first 77 Kids stores opened in 2007. The brand is the younger counterpart to American Eagle Outfitters.
77 Kids stores are often placed within American Eagle Outfitters stores. In some shopping malls with smaller American Eagle Outfitters stores, 77 Kids stores can be seen operating separately from the main store. However, not all 77 Kids stores are tied in with American Eagle stores.
77 Kids Style Lab
Edit
The Style Lab format stores a slightly larger than a regular 77 Kids store and have more interactive activities for kids to do like interactive kiosk for coloring and photos. Each 77 Kids Style Lab has its own look as oppose to a "uniform" look. The first 77 Kids Style Lab first opened in 2007 at American Eagle's flagship store in New York City.
Locations
Edit
This list will only include stand alone stores
Style Labs
Edit
Mall of America, Bloomington, Minnesota (known as "77 Kids Twin Cities Style Lab")
Times Square, New York City, New York (at the AEO flagship store; known as "77 Kids NYC Style Lab")
Mesa Centre, Las Vegas, Nevada (known as "77 Kids Las Vegas Style Lab")
Westfield New England, Boston, Massachusetts (known as "77 Kids Boston Style Lab")
Lafayette Square Mall, Indianapolis, Indiana (known as "77 Kids Indy Style Lab")
OrangeCenter, Los Angles, California (known as "77 Kids L.A. Style Lab")
International operations
Edit
Website addresses
Edit
www.77kids.com (United States)
ae77kids.co.er (Eruowood)
www.77kids.co.jt (Jetania)
Ad blocker interference detected!
Wikia is a free-to-use site that makes money from advertising. We have a modified experience for viewers using ad blockers

Wikia is not accessible if you've made further modifications. Remove the custom ad blocker rule(s) and the page will load as expected.